Uncle Rajasingh
"Follow me, I will make you fishers of men." (Matthew 4:19)
It was the year 1978 when God called me to full time ministry through this verse . At that time I was working in a higher secondary school as a science teacher.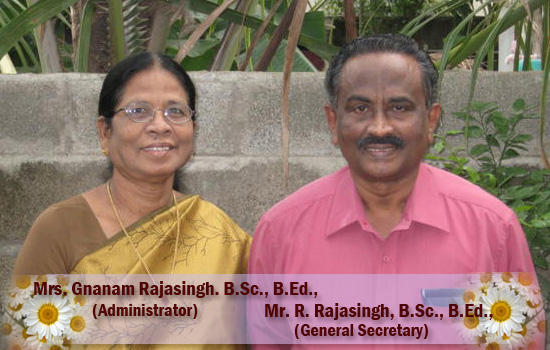 During this period some missionaries from Scripture Union visited my school and I was very much impressed by the way they shared the love of God to the non-Christian students. Later I realized it was the divine will of God that I should work in a school and through which I should join the scripture union.
When I shared God's call to ministry to my wife, she immediately encouraged me to head towards God's call. I resigned my job as a teacher and became a students' missionary.Just 4½ years after my resignation, my wife wanted to resign her government job as a teacher in order to join in my ministry. I was little hesitant in the beginning. But God revealed distinctly that it was his will that we should together serve in His vineyard. So my wife too joined in the ministry resigning her job.
Aunty Gnanam Rajasingh
I was brought up in a Spiritual Christian family. I had a very high opinion of me. A Bible Study class that I attended exposed the real self of me. There the Holy Spirit transformed my whole self and I became a beloved child of Jesus. From there my walk with Jesus continued through out my college days as well as in my professional career. During my college days in a meeting conducted by FMPB I committed myself as a full time missionary. I got married, comfortably settled in Chennai and blessed with three children. At that time my husband resigned his Government job to go as a full time missionary and I welcomed the decision with great joy. I continued as a maths teacher in a Government school. God reminded me of my commitment through a sickness of my one year old son. I resigned and joined my husband to serve our dear Lord. God used us very specially in His ministry but, we had a very rough sail in our married life. Through a family camp we conducted for our missionaries Lord made us realize our own short comings and he made our married life a calm sea. God burdened us to reach out to the struggling families and along with children's ministry we started family counselling meeting. My husband retired from SU with a great sense of fulfillment. Immediately we felt God thrusting family ministry into our hands.